Designer Skin's prevailing philosophy is "Nutrition for the Skin" and this mantra drives every aspect of our product development. Designer Skin's phenomenal line of products provide the ultimate in skin nutrition through the use of advanced skincare ingredients and superior formulations.
Designer Skin- Exceptional skincare. Exceptional color.
---

All Hempz products contain Pure Organic Hemp Seed Oil, one of nature's richest sources of Essential Fatty Acids (EFAs), nutrients and vitamins that protect and condition the skin. Every product is formulated to heal and renew skin and reduce fine lines and wrinkles.
---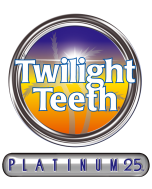 Twilight Teeth is the original Patented UV Teeth Whitening System. We combine our small, comfortable mouthpiece with our Platinum 25 no rinse formula, in a simple application process, to achieve stunning results in the salon, at the beach, or at home. Twilight Teeth pioneered a unique approach to turn tanning beds into teeth whitening machines.